Shop Indexed Universal Life Insurance Policies
Our Service Guarantee
You'll always get friendly & knowledgeable service from a real, live person.
We never share your information with third parties. We only ask for the information needed to give you an accurate quote.
Our service is 100% free with no obligation. Don't want to proceed? Let us know and we won't contact you again.
Comparing quotes is
fast and easy
Short on time? Let our licensed insurance advisors do the shopping for you! They'll find you indexed universal life insurance policies and rates from the nation's top-rated providers.
Request
Fill out our easy form – our insurance advisors will contact you to go over how much coverage you need.
Select
Compare the rates our agents found, all from America's top-rated insurers. Choose the policy that best fits your needs & budget.
Apply
Our easy application process can be completed over the phone, with fast digital processing and eSignatures to speed things up. If you have questions at any time, we're here to help.
Our Life Insurance Carriers
We work with more than 40 of the nation's top life insurance providers, including:












John G
"I just activated my life insurance policy. I would like to thank you for going the extra mile to make this happen. Without your assistance I would either be without life insurance or paying a premium that is much too high for my health status. Again, thank you."
Dew C.
"I want to thank you for all of your help and patience. If any of my friends or family are looking to purchase life insurance, I would refer you to them."
Karin T.
"Christine was extremely nice and pleasant to work with. She was very patient and really took her time explaining everything."
Derek D.
"I got the privilege of working with Tammy today. She is very kind, informative and quick to the point. She is very knowledgeable on what she does and it shows. You guys have a good team member in her."
Jake H.
"Speaking with you has not only give me the insight of the importance of life insurance for the sake of the people I love, but also the importance of it for myself. Speaking with you showed me there are decisions in my life that need to be addressed if I want to achieve my goals...Thank you for taking your time to reach out to me personally."
Maryam Q.
"Christine Orris was my agent and she was VERY helpful in answering all my questions as I was inquiring about buying a policy. The process itself was very simple. I told her what I needed, she recommended the best product for my needs. Recommended!"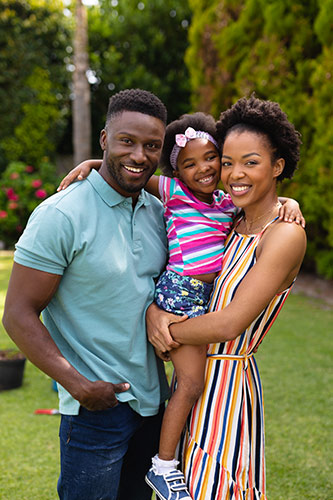 What Is Indexed Universal Life Insurance?
Coverage with an extra chance to earn
Indexed universal life (IUL) is a type of permanent life insurance, which covers you for your entire life. That means no matter when you pass away, your beneficiaries will get an income-tax-free cash payment. Compare that to a term policy, which only pays out of you pass away during the specified term.
These policies also include a cash value account. A portion of every payment you make gets deposited into this account, which grows with interest on a tax-deferred basis. Later on, you can use that money for anything you want - travel, college for the kids, or early retirement. Some of our clients use the cash value to pay their policy's premiums.
Sounds great, right? But with IUL, there's a special twist.
You have the chance to grow your cash value interest earnings by tying some or all of that growth to the performance of a stock market index, such as the Dow Jones, S&P 500, or the Nasdaq. That's a big change from, say, a whole life policy whose cash value grows solely based on a fixed interest rate.
You get to choose how much of your cash value to tie to an index. That portion of your cash value will then grow based on how well that index performs. For example, if your index goes up that month, you'll earn more than an account with a locked-in interest rate - up to the stated cap provided by your insurer. That's good news when we have a bull market! But if your index ends the month down, don't worry. Most policies come with a guarantee that you won't lose money - you just might not earn any interest if your index decreased that month.
In a nutshell, here's what that means:
Guaranteed death benefit
Potential to grow your cash value account over time based on market growth
Protection against losing money if the market doesn't do well
Meet Our Client, Dara
How do you maximize earnings...while keeping your cash value safe?
"I'm a mom with two kids and a freelance consulting business. I travel a lot for work, so I knew I needed life insurance. If something happened to me, I had to provide for my kids – no question.
And once I started looking at different types of policies, I liked the idea of earning a little more interest with IUL. I'm not into risks. I'm never going to play the stock market, you know? I want my money to stay safe and secure. That's why I like my policy's guarantee. I can make more money if my index goes up, but I won't lose anything if it doesn't.
Safety and security are my top priorities – but I like the chance to earn a little more without risk. IUL does all of that for me!" – Dara R.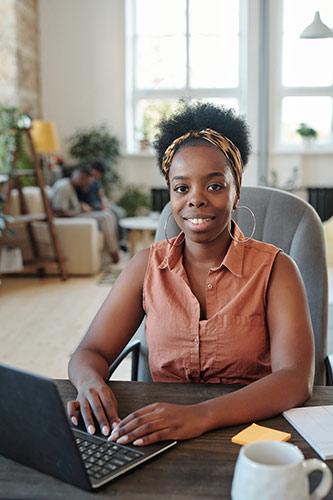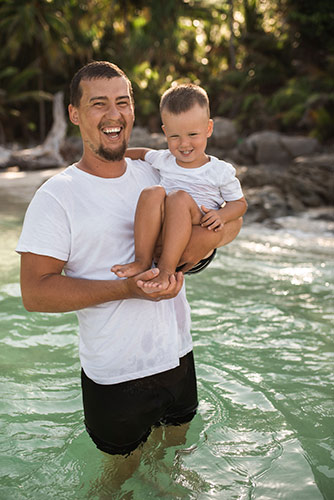 Retirement Savings + Low Risk
Felipe didn't want any risk threatening his retirement – so we introduced him to IUL.
"Retirement is still at least twenty years away for me and my wife, but I'm counting the days. I want to make sure we have enough money to live on – nothing crazy, but not different from our current lifestyle.
I picked an IUL policy because it checks all the boxes: if I die, my wife gets the cash payout. If I don't die, my policy earns interest based on how the S&P 500 does. If it does really good, I get more cash value. If it doesn't, I don't lose a dime. I already have a 401(k) that's invested in some stocks, so I don't want anything else that might lose value. I just want to get every little bit of income I can for my retirement. I'm happy to pay more now, watch it grow, and use it to go relax on a beach in Florida later!" - Felipe M.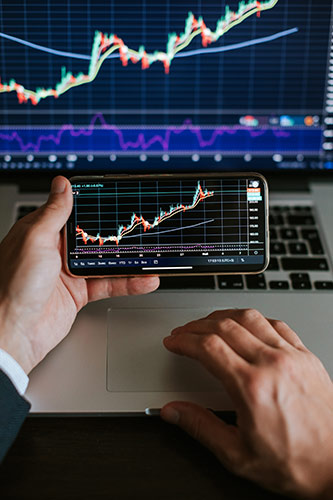 Can IUL Beat the Stock Market?
The answer might surprise you!
You might be wondering how it's possible for the interest-based returns of an indexed life insurance policy to beat the stock market. It does happen – and here's how. Imagine a scenario where a particular stock index is volatile on a yearly basis - up one year, down the next, up the next, and then down again.
Year 1: Up 5%
Year 2: Down 5%
Year 3: Up 5%
Year 4: Down 5%
Total Gains: 0%
If you had invested $10,000 in the stock market, each downturn would wipe out the gains you'd made the previous year for a net return of zero.
But...in a market like this, IUL is a good solution for maximizing gains.
Let's say you had that $10,000 in your policy's cash value account, tied to that same volatile index. Let's also say your IUL policy capped your earnings at 10% with an 80% participation rate. Let's also say your insurer offers a guaranteed 1% interest rate even if your index loses money. Let's see how that adds up:
Year 1: $10,000 x 5% = $500 x 80% participation rate = $400
Year 2: Guaranteed 1%: $100
Year 3: $10,000 x 5% = $500 x 80% participation rate = $400
Year 4: Guaranteed 1%: $100
Total Gains: $1,000, or 10% return
Did you know?
You control how much of your accumulated cash value is tied to an index's growth. Prefer to play it safe? Reduce the amount of your cash value that's tied to the index's growth. Most insurers offer a low but guaranteed rate of interest for the portion not tied to an index, making it a safe bet during a bear market. Then, when a bull market re-emerges, you can allocate more of your cash value to be tied to the index. This way, you can take advantage of gains without losing during a downturn.
Get Your Free Quote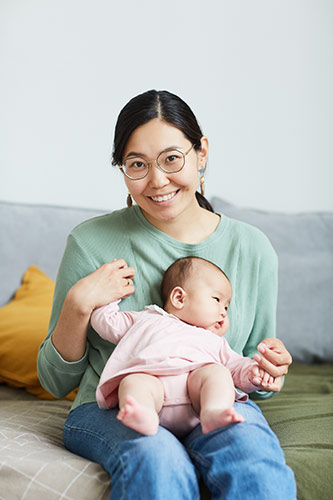 Is Indexed Universal Life Insurance Right for You?
That's something only you can answer. But we can point out a few pros and cons to help you decide:
Pros
A guaranteed death benefit for your loved ones.
Tax-deferred cash value that you can pull from (up to the total amount you've paid into the policy) with zero tax liability.
The ability to take advantage of market gains with zero vulnerability to market losses.
No limits on what you can contribute to your account, making it a good place to stash money if you've already maxed out 401(k) and IRA contributions.
Cons
Your payments will eventually go up as you age - but if you have enough cash value, you can use that to make the payments. You can also adjust your death benefit amount to decrease that payment amount.
IUL policies all have caps on how much you can earn based on your index's performance.
If you let your policy lapse, you lose access to any cash value accrued, and your loved ones won't receive a death benefit.
Indexed Universal Life Insurance: FAQ
Got questions? We can help!
---
Is IUL an investment?
No. An IUL policy is not an investment in the stock market. None of your money is invested in any stock, fund, or index. You might hear an IUL policy described as an investment because your cash value account grows over time. However, that growth does not come from an investment. That growth comes from the interest paid by your insurer.
---
Can I say I'm in the stock market if I buy an IUL policy?
No. There is no stock ownership involved in the purchase of an IUL. What you're buying is a life insurance policy. The stock market only comes into play as the deciding factor for how much interest your cash value account is credited.
---
How do I earn money when my stock market index goes up?
This depends on a number of things that are specific to your policy: the cap rate set by your insurer, how often your insurer adds interest earned to your account, whether they calculate it daily/monthly/quarterly/etc., and the participation rate (the % of the index's gains they will pay you). That participation rate varies quite a bit - some are below 100%, while others are above. But in general, this is how it works.

Let's say you have $5,000 in your cash value account. Now let's say your chosen index ends the month up 5%. Let's also say your policy comes with a 100% participation rate. Here's how that math works out:

$5,000 x the % your index went up that month (5%) = $250
$250 x your policy's participation rate (100%) = $250
Your insurer will add $250 to the value of your cash value account.
---
Can I lose money if the stock market tanks?
Rarely. Most IUL policies come with guarantees that even if the market performs badly, your cash value account will not lose any value. We do not recommend buying any policy that does not contain a guarantee against loss.

Keep in mind that if we have a prolonged period where the stock market loses value or makes minimal gains, your cash value will grow at a slower pace than it would have with a different type of policy (one with a guaranteed interest rate, for example).

If you want the chance to grow your cash value account over the next 10-20 years, ask yourself: do you think the stock market will go up between now and then? If yes, IUL may be a good fit for you. But if you don't think the market will go up, you may prefer the security of a guaranteed interest rate.
---
How much of my payment goes into the cash value account?
That depends on your insurer and your policy. Your payment has to cover three things: (1) the cost of insuring you, which goes up the older you get; (2) any fees or commissions charged by the insurer; and (3) the contribution to the cash value account. Only the insurer can calculate what this amount is actually going to be. This may also change over time as you become older and cost more to insure.
---
Is my monthly payment amount guaranteed?
No - your monthly payment amount will change slightly throughout your life. That's because the cost of insuring you goes up as you age. So beginning at about age 50, you can expect small periodic increases after that point. The good news? If you have enough cash value in your account, you can use it to pay your premiums, making the coverage cheaper as you age.
---
Rather talk to a real person about your family's insurance needs? Call us now at 800-823-4852!
---
Why Work with WholesaleInsurance.net
Our awesome staff & licensed agents are here to help you get the right policy at the right price! Let us do the heavy lifting for you - we'll shop the nation's top carriers and show you the policies that meet your needs and your budget. Call 800-823-4852 now to get your free quote!
Meet the Team
Christine Orris


Team Lead

"I've been in the life insurance industry for

25 years

. In addition to life insurance, I'm also experienced in disability and property & casualty insurance (home & auto coverage). I especially enjoy helping my higher risk clients find the best possible coverage. The whole purpose of buying life insurance is to protect the ones you love! After hours, you can find me camping, gardening, hiking, boating, and spending time with my wonderful husband, two children, and fur babies."

Debby Strouse


Insurance Advisor

"I have

17 years

of experience in the life insurance industry. I come from a teaching background, so my favorite part of this job is being able to teach someone who's new to life insurance. I explain that life insurance is for protection. It prevents families from the financial trauma of losing a loved one so their focus can stay on mourning. My mother passed with no insurance, and we had to sell her things to pay for final expenses. I really do care about helping my clients and I don't want them to go through that. When I'm not at work, my grandchildren and my kids are my world."

Tammy Walde


Insurance Advisor

"I started in the insurance industry when I was

still in high school

. Shortly after, I obtained my license and I've been helping families with their insurance needs ever since. No one can truly predict the future. But life insurance means you and your loved ones can prepare for the loss of income. I have a client that wanted to set aside money for his daughter's wedding, if he was not able to be there. That brought me to tears. When I'm not helping clients, I love fishing in local rivers and lakes. Everybody can see me coming with my pink fishing jacket."
Your actual indexed universal life insurance premium can only be determined by a full application and the carrier's underwriting process, which may include some medical testing at their expense. Depending on the carrier, premiums can be paid on an annual, semi-annual, quarterly or monthly basis. Monthly premium rates may be available via EFT (electronic funds transfer). Not all carrier policies are available at all durations for all ages in all states. By providing your phone number and the name of your wireless carrier, you agree to WholesaleInsurance.net's privacy policy and terms of use. You also agree to receive communication from us at the phone number(s) you provide. Our communication with you may include autodialed or pre-recorded calls, emails, and SMS or MMS messages. You may opt out at any time. You may also call us directly at (800) 823-4852.