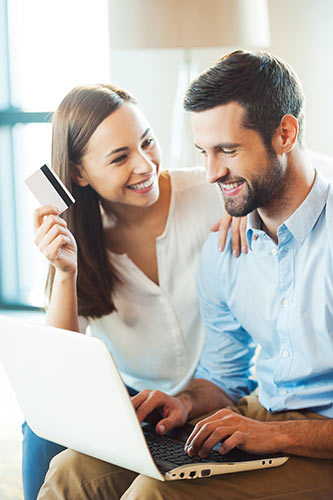 There are four main steps involved in buying life insurance. Depending on the kind of insurance you want, it's possible to do everything online - but you might be missing out or paying more if you choose a 100% online option. It really does pay to talk to an agent, who can explain your options and help you get the lowest possible rates. I can help with any of these steps if you get stuck or have questions. Let's get started!
➡️ Ready to find out how affordable a new life insurance policy could be? Click the button below to get a free quote!
Get a Free Quote
---
How to Buy Life Insurance Online
Choose a coverage amount. The amount of life insurance you should have typically depends on your income, your assets and debts, your financial goals and obligations, and many other factors. Choosing the appropriate amount of coverage is critical because you want to be adequately protected, but you don't want to pay for more coverage than you need. I can help you sort out these issues. For many people, an amount 8-10 times their annual salary is sufficient.
Choose term or permanent coverage. Because each type has its own unique features, you should understand the differences and select the one that best meets your needs. In a nutshell, term life insurance covers you for a limited term (5 to 30 years), while permanent coverage lasts your whole life.
Compare rates and carriers. The amount you'll pay for life insurance coverage depends on your age, gender, health, family history, occupation, lifestyle, and other variables. The kind of policy and the amount of insurance you need will determine the premium. However, different insurance companies may charge widely different premiums for similar coverage. That is why finding the right policy at a good price takes some comparison shopping. The easiest way to do this is to use the fast, free quoter right here on this page. When you're choosing between carriers, you might want to ask some basic questions. How long has the company been in business? Is it a trusted, reputable name in the industry? Is life insurance one of its main products? You might want to visit the company's website to learn more about it. There are also independent firms that make a business of rating insurance companies, usually on a letter-grade scale. The ratings are typically based on an insurance company's financial soundness, the performance of its investments, and its record of paying claims in a timely manner. Some well-known ratings service firms are A. M. Best, Standard & Poor's, Fitch, Moody's, and TheStreet.com (formerly Weiss). These firms may charge a fee for the ratings they provide, but it may be worth it if you're serious about evaluating insurance companies.
Apply. You will be asked questions about your health and finances so the insurer can get a good idea of the kind of risk you may represent. Be honest in all your answers!
As you're comparing, read the fine print…and ask me if you have any questions! I can help you with the entire process, starting with assessing your life insurance needs and choosing the right type of policy. I can also help you evaluate insurance companies, and do detailed policy comparisons.
➡️ Ready to find out how affordable a new life insurance policy could be? Click the button below to get a free quote!
Get a Free Quote