Disability Income Insurance
Our Service Guarantee
You'll always get friendly & knowledgeable service from a real, live person.
We never share your information with third parties. We only ask for the information needed to give you an accurate quote.
Our service is 100% free with no obligation. Don't want to proceed? Let us know and we won't contact you again.
Our Insurance Carriers
We work with more than 40 of the nation's top insurance providers, including:












John G
"I just activated my life insurance policy. I would like to thank you for going the extra mile to make this happen. Without your assistance I would either be without life insurance or paying a premium that is much too high for my health status. Again, thank you."
Dew C.
"I want to thank you for all of your help and patience. If any of my friends or family are looking to purchase life insurance, I would refer you to them."
Karin T.
"Christine was extremely nice and pleasant to work with. She was very patient and really took her time explaining everything."
Derek D.
"I got the privilege of working with Tammy today. She is very kind, informative and quick to the point. She is very knowledgeable on what she does and it shows. You guys have a good team member in her."
Jake H.
"Speaking with you has not only give me the insight of the importance of life insurance for the sake of the people I love, but also the importance of it for myself. Speaking with you showed me there are decisions in my life that need to be addressed if I want to achieve my goals...Thank you for taking your time to reach out to me personally."
Maryam Q.
"Christine Orris was my agent and she was VERY helpful in answering all my questions as I was inquiring about buying a policy. The process itself was very simple. I told her what I needed, she recommended the best product for my needs. Recommended!"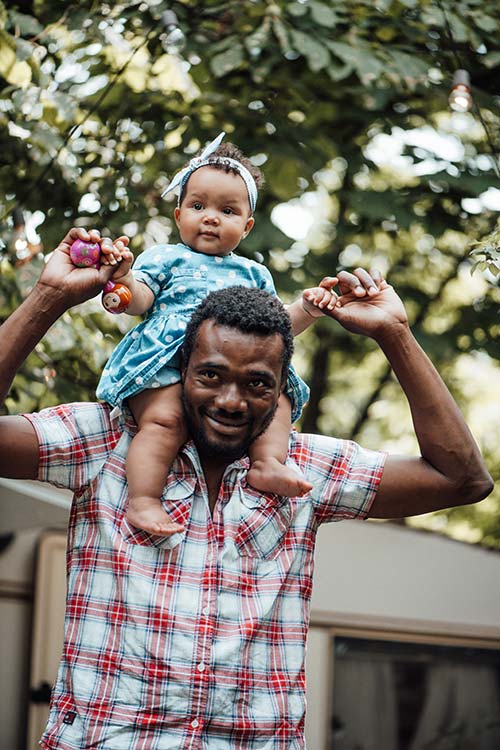 Accidents Happen...And Cost a Lot of Money
Protect your savings with disability insurance
"It was summer vacation, and I took my family up to our cabin in the mountains. I figured I'd do some work on it while the kids went to the lake. I was up on a ladder, cleaning the gutter, when I started feeling lightheaded. It only lasted a second, but it was enough to make me lose my balance and I fell. Right onto the rock steps that lead up the side of the cabin. I could barely move.
I had what they called a burst fracture, where pieces of vertebrae actually broke off and embedded themselves in the tissue around my spinal cord. Not fun for anyone, but since I'm a landscaper, it also meant I couldn't work. If I had a desk job or something, maybe I could have managed it, but that wasn't in the cards.
My wife reminded me that I had a disability policy – I didn't even remember, it had been so long ago. The money started coming as soon as my 30-day waiting period passed. It sure felt good to see that cash in my checking account. I really feel like that money saved us. What with inflation making everything cost so much, my savings wouldn't have gone very far." –Darryl P.
Inflation: The Biggest Financial Risk of 2022
It's not your imagination – everything is getting more expensive.
From housing to gas to food, inflation is driving up prices across America. And because fuel and transportation have become more expensive, the cost of providing goods and services has also gone up. In other words, everything is about to get even more expensive. Families all across the country are feeling the impact. So what can you do to offset these price increases?
The Solution: Find a Hedge
This time-tested financial strategy protects your buying power.
In financial terms, a "hedge" is a strategy used to balance risk. Because inflation is such a problem right now, the best hedge is something that protects your money. But where does that money come from? It comes from your ability to work. As costs continue to rise, your income is more important than ever. And insuring that income is the smart way to hedge against the dangers of inflation as well as a disabling illness or injury.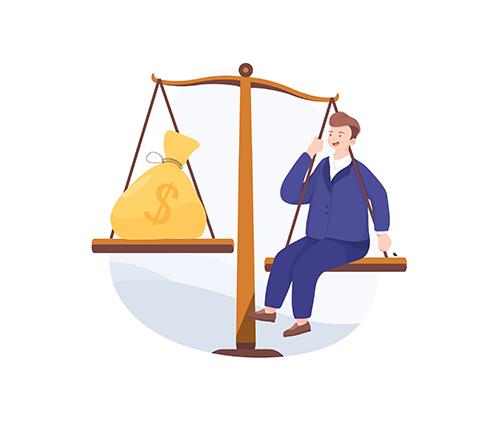 Protect Yourself with Disability Income Insurance
Disability income (DI) insurance works as a hedge against inflation. If you got sick or hurt and couldn't work, inflation would take an even bigger chunk out of your family's savings. So don't let that happen! Protect your paycheck with disability insurance. That way, if you can't work due to an unexpected disability, you still get paid – and you can still put food on your family's table.
Get a Free Quote
Get Peace of Mind
Your mental well-being is worth every penny.
It only takes a few minutes to see how little it could cost to insure your income. You already insure your health, your car, your home, your travel, and your pets. Why not protect the one thing that makes all of them possible: your paycheck! Take the sting out of inflation by ensuring that your paycheck is protected. Give us a few minutes and we'll help you insure your income so you can focus on what matters most: your career, your free time, and your loved ones.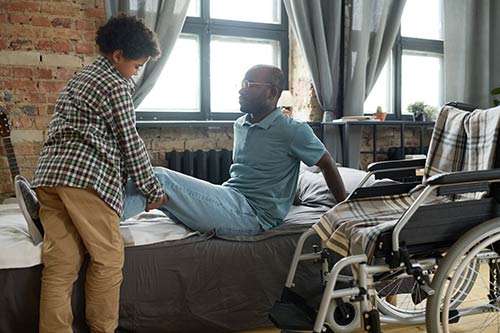 My Recommendation: Assurity's Disability Insurance
If you're short on time, this is the fastest, easiest way to get coverage and move on with your life.

Easy application – a few simple questions and you're on your way
Fast turnaround – Assurity issues approvals in days, instead of weeks or months
Simplified underwriting – you don't have to take a medical exam; if needed, they may do a phone interview
Partial or full disability payouts – you get paid whether you can't work at all or can only work part-time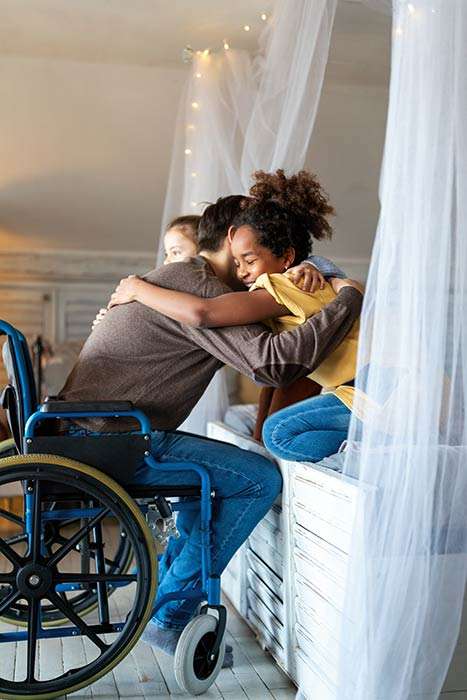 Disability Insurance Q&A
What happens if I never get disabled?
That's a good thing, right? But if you're worried about paying for coverage you might not use, consider adding Assurity's return of premium rider. This way, if you never become disabled, you'll get your money back when you reach age 67 or pass away. You'll still get your money back even if you cancel the policy or let it lapse.
I tell my clients to think about disability insurance the same way they think about health or auto insurance. You don't want to have to use it…because that means something bad probably happened. But having that coverage gives you peace of mind whether or not you ever need it.
What if I already have coverage through work?
It's a good idea to check the details of that policy. Oftentimes, work policies don't pay much, have long waiting periods, or only cover accidents that happen at the workplace. For example, let's say that policy has a 90-day waiting period. Do you have 3 months' worth of living expenses for the whole family saved up as cash? If not, that policy's not going to be able to support you very well. You may need supplemental or replacement coverage to make sure you're fully protected.
Does the policy pay 100% of my salary while I'm disabled?
No. Every state has its own law limiting how much your disability policy can pay you, as a way of incentivizing you to focus on recovery and getting back to work. This Assurity policy is capped at 60% of your pre-disability monthly income.
Is there a waiting period?
Yes, Assurity's simplified issue policy has a waiting period (sometimes called the "elimination period"). In insurance-speak, this is the number of days you must be totally disabled to become eligible for benefits. The good news is that you can pick your waiting period. The goal here is to balance your financial need with the cost of the policy. For example, if you pick the shortest waiting period, your policy will cost more than if you pick the longest waiting period. Options include 30, 60, 90, or 180 days.
How long does this policy pay benefits?
That's up to you. The maximum length of time your policy pays out (called the "benefit period") is an option you can customize to meet your needs. As with the waiting period, the shorter the benefit period, the less your policy will cost. Policies that pay for longer benefit periods will cost a little more. For this Assurity policy, your options include 6 months, 1 year, or 2 years.
Is this the same as a government disability payment?
No – this is a separate policy you own that is NOT dependent on government approval to receive benefits. However, if you do file a Social Security disability or Workers' Comp claim and get approved, the amount you get from this policy will be reduced up to 50%. That's required in order to comply with your state's laws about the maximum amount you can receive while disabled.
There's no better way to protect your family from the unintended financial consequences of a disability.
About Assurity
Serving customers for over 130 years
Assurity wrote its first disability policy all the way back in 1890. Today, the company is headquartered in Lincoln, Nebraska. Assurity combines the shared resources of three Nebraska companies: Woodmen Accident and Life, Security Mutual Life, and Lincoln Mutual Life. What I like about Assurity is their fast response time. Most claims are processed within 7-10 days. Assurity is also a certified B Corporation, which means they have a public commitment to sustainability and community responsibility.
Why Work with WholesaleInsurance.net
Our awesome staff & licensed agents are here to help you get the right policy at the right price! Let us do the heavy lifting for you - we'll shop the nation's top carriers and show you the policies that meet your needs and your budget. Call 800-823-4852 now to get your free quote!
Meet the Team
Christine Orris


Team Lead

"I've been in the life insurance industry for

25 years

. In addition to life insurance, I'm also experienced in disability and property & casualty insurance (home & auto coverage). I especially enjoy helping my higher risk clients find the best possible coverage. The whole purpose of buying life insurance is to protect the ones you love! After hours, you can find me camping, gardening, hiking, boating, and spending time with my wonderful husband, two children, and fur babies."

Debby Strouse


Insurance Advisor

"I have

17 years

of experience in the life insurance industry. I come from a teaching background, so my favorite part of this job is being able to teach someone who's new to life insurance. I explain that life insurance is for protection. It prevents families from the financial trauma of losing a loved one so their focus can stay on mourning. My mother passed with no insurance, and we had to sell her things to pay for final expenses. I really do care about helping my clients and I don't want them to go through that. When I'm not at work, my grandchildren and my kids are my world."

Tammy Walde


Insurance Advisor

"I started in the insurance industry when I was

still in high school

. Shortly after, I obtained my license and I've been helping families with their insurance needs ever since. No one can truly predict the future. But life insurance means you and your loved ones can prepare for the loss of income. I have a client that wanted to set aside money for his daughter's wedding, if he was not able to be there. That brought me to tears. When I'm not helping clients, I love fishing in local rivers and lakes. Everybody can see me coming with my pink fishing jacket."
Your disability income insurance premium can only be determined by a full application and the carrier's underwriting process. Depending on the carrier, premiums can be paid on an annual, semi-annual, quarterly or monthly basis. Monthly premium rates may be available via EFT (electronic funds transfer). Not all features or riders are available for all ages in all states. By providing your phone number and the name of your wireless carrier, you agree to WholesaleInsurance.net's privacy policy and terms of use. You also agree to receive communication from us at the phone number(s) you provide. Our communication with you may include autodialed or pre-recorded calls, emails, and SMS or MMS messages. You may opt out at any time. You may also call us directly at (800) 823-4852.